Have you been playing guitar for a while and need an upgrade from the starter guitar that you've been learning and practicing on? Or, maybe you are a beginner with a decent budget for your first guitar? Great! Upgrading to a better intermediate guitar is an exciting milestone for every guitarist. It means you've put in the time and work to justify purchasing a new guitar to help further your playing. We've researched the best intermediate electric guitars and reading this article will help you make an informed decision. 
Intermediate vs. Beginner Guitars
What does an intermediate guitar offer that beginner or starter guitars do not? For starters, intermediate guitars will generally tend to offer:
Easier playability
Better build quality with higher quality materials
Better hardware and electronics
A wider variety of body styles and finishes
While you may spend more money for an intermediate-level guitar than you would for an entry-level guitar, this type of guitar will generally help carry your guitar journey to higher levels. An intermediate guitar will allow you exceptional playability without necessarily having to upgrade your guitar until you have reached an even higher level of playing or your music-playing career demands a higher quality build. 
So, what are the best guitars for intermediate players with a middle-of-the-road budget? Fortunately for you, we have researched intermediate guitars and narrowed down the list. These are some of the best value guitars for the money. The PRS SE Standard 24 topping off our list as the best intermediate guitar overall. Other guitars mentioned in this list include the Fender Player Series Telecaster HH, Epiphone Les Paul Studio, and the Ibanez Steve Vai Signature JEMJR.
Regardless of your playing style or musical genre preferences, the guitars in this list will be able to suit your needs. Of course, each person has their own tonal and aesthetic preferences, and thus, one size does not fit all. These guitars will be able to carry you long into your journey of becoming a seasoned guitar player.
Paul Reed Smith SE Standard 24 – Best Overall Intermediate Electric Guitar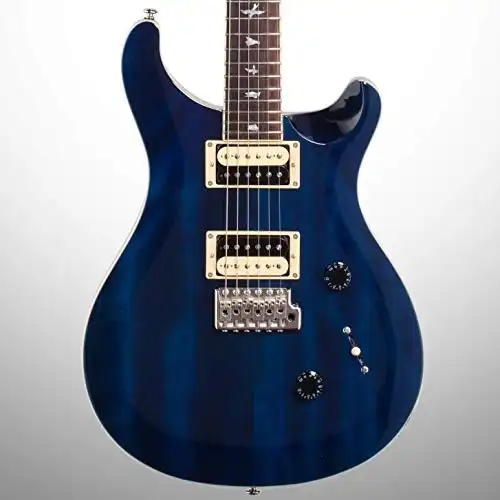 The PRS SE Standard 24 is a fantastic guitar for the price point. Paul Reed Smith guitars have an excellent reputation for superbly built guitars. Not only do they look great but sound wonderful and feel comfortable to play. Produced in Korea the SE series is PRS's line of guitars is for the intermediate-level player.
While the SE stands for Student Edition, these guitars offer a level of craftsmanship and playability that will suit even the most seasoned players. This guitar is made from mahogany, with a 25" scale 10" radius maple neck and a rosewood fretboard featuring the iconic PRS bird inlays. This guitar comes in finishes such as Tobacco Burst, Vintage Cherry, and Translucent Blue.
A bonus is that this guitar also has 24 frets for 2-octave playability. The PRS SE Standard also has a PRS molded tremolo for a bridge, a feature not often found on entry-level guitars. However, after frequent usage in a playing session, you may encounter slight tuning issues, which can be expected for most tremolo setups in the intermediate range. 
Perhaps one of the best features of this guitar is the ability to play with either humbuckers or single coils. Often, when purchasing a guitar, pickups factor heavily into the decision-making. This guitar makes it easy, as a push-pull function on the tone knob allows players to switch between humbuckers or single coils by splitting the humbuckers into single coils. A standard 3-way switch allows for pickup selection between the neck and bridge position pickups.
Overall, you will be hard-pressed to find a better guitar for the price. This guitar will serve your needs well into your guitar-playing journey. 
Pros:
Excellent build quality without breaking the bank
Push-pull tone-knob splits humbuckers into single coils for best-of-both-worlds tonal range
24 frets for 2-octave playability
Tremolo for extra expression capabilities
Cons:
May encounter tuning stability issues after frequent tremolo usage in a playing session
Fender Player Telecaster HH – Best Premium/High-End Intermediate Guitar

Perhaps one of the most versatile and iconic guitars in the history of 20th-century American music is the Fender Telecaster. This guitar has graced wide-ranging styles from country, blues, rock, funk, and more. With the Fender Player Telecaster HH, Fender has offered a modernized version of the classic guitar, fit to suit the needs of any musician in today's world of music.
The Fender Player Telecaster HH boasts quite a few updates from its traditional predecessor. The most notable is the Player Series 2 alnico humbuckers in neck and bridge positions with a push-pull tone knob to split the humbuckers into single coils. This particular upgrade opens up the tonal range to ensure playability outside of its traditional twangy roots that the guitar is typically known for. Warmth and added sustain are just a couple of the benefits of having humbuckers in this guitar. 
Build-wise, the guitar is crafted from alder, with a 22-fret maple neck (vintage Telecasters only had 21 frets). The neck has a C-shape that has been modernized to offer playability to the demands of today's musicians. The guitar itself comes in a variety of different finishes and fretboards, including Tidepool (featuring a maple fretboard), Silver (with Pau Ferro fretboard), and 3-tone Tobacco Burst (also with Pau Ferro fretboard). 
Pros:
Versatile guitar fit to accompany the styles of modern music and the demands of the modern musician
Humbuckers with push-pull coil-tap on the tone knob offer the best-of-both-worlds tonal range, with added warmth and sustain in addition to the classic twang the guitar is typically known for
Option for maple or Pau Ferro fretboard
22-fretted neck, as opposed to 21-fretted telecasters, commonly found in the past
Cons:
Some may not enjoy the traditional look of this guitar
Ibanez Steve Vai Signature JEMJR – Best Value Intermediate Electric Guitar
If you want an affordable guitar that has extreme playability for even the most technical and complex guitar players, look no further than the Ibanez Steve Vai Signature JEMJR. As many know, Steve Vai is a guitar virtuoso who has continuously pushed the envelope of the possibilities of the electric guitar. 
With the 25.5" scale maple Wizard III neck and jatoba fretboard (with 24 frets), this guitar promises to offer playability that is both fast and sleek. The neck also features a vine inlay made of acrylic. The body of the guitar itself is crafted from meranti. 
Onboard, the guitar is stocked with Quantum Humbuckers in both the neck and bridge positions and a Quantum Single Coil in the middle position, with a 5-way selector switch to change between pickups. 
The guitar comes in various finishes, including White, Yellow, and Pink, and features the handgrip that is signature to Steve Vai's guitars. Aside from the unique look that the guitar has, the guitar features a double-locking tremolo bridge and a locking nut, which is unusual for a guitar at this price point. Any guitar player that plays with a tremolo system without a locking nut will tell you that one broken string will throw the tuning of the entire guitar out of tune, which is not the case here!
Pros: 
Extreme playability with the Wizard III neck 
Perfect for the shredder looking for a budget-friendly guitar without compromising playability
A combination of humbuckers and a single coil with a 5-way switch offers many tonal possibilities
Tremolo and locking nut for all your tremolo/whammy needs without worrying about tuning issues
Cons:
The unique guitar body style is not for everyone
The finishes available may be too flashy for some
The acrylic ivy inlay may not suit the aesthetic preferences of some people
Epiphone Les Paul Studio – Best Electric Guitar for Beginners with More to Spend
The Les Paul is one of the most sought-after guitars for beginners, likely because the guitar has graced the hands of many icons, including Slash and Jimmy Page. While the Gibson models tend to be far outside the price range of any beginner or intermediate player's budget, the Epiphone Les Paul Studio is an excellent model for those wanting a Les Paul without having to burn a wad of cash. 
Epiphone has long been famous for making affordable models of their Gibson siblings, at times boasting better craftsmanship. The Les Paul Studio is just one example of such a guitar model. 
The Les Paul Studio is crafted from mahogany, with a 1960's style Slim Taper D-shape mahogany neck and Pau Ferro fretboard. The neck features 22 frets and the trapezoid inlays that many Les Pauls and other Gibson-style instruments are known for. The Epiphone Les Paul Studio also has Grover 18:1 tuners for superior tuning stability and a LockTone Tune-O-Matic Stopbar bridge, adding to the sustain that Les Pauls are often known for.
For pickups, the Les Paul Studio features an Epiphone Alnico Classic Humbucker in the neck pickup and an Epiphone Alnico Classic Humbucker Plus in the bridge. Like most Epiphones and Gibson-style guitars, this guitar has a classic 3-way toggle switch to switch between pickups, as well as 2 volume knobs and 2 tone knobs (each set to each pickup) to blend the pickups to your choosing. Finishes come in Alpine White, Wine Red, Ebony, and Smokehouse Burst.
Pros:
Les Paul tones at an affordable price
A wide range of finishes are available
Grover tuners for excellent tuning stability
Cons:
The single-cutaway Les Paul style may not suit everyone's tastes
As this guitar only has humbuckers without the coil-splitting technology, single-coil lovers will be out of luck
Conclusion
Shopping for a guitar is exciting for every guitar player, but it is essential to do some research to understand what guitar suits your needs the best. For an intermediate player (or a beginner with a little more to spend), the ideal guitar will not only fit the demands of their preferred musical genre(s). Still, it should also last well into the guitar player's career without the need of upgrading soon.
Our research has found the PRS SE Standard 24 to be the absolute best intermediate guitar overall, offering superior build quality and features at an affordable price point.
The Fender Player Telecaster HH has ranked as the best intermediate guitar at the high end of a middle-of-the-road budget. 
Guitarists (especially the shredders) looking for the best value should take a serious look at the Ibanez Steve Vai Signature JEMJR.
For beginners with a little more to spend, the Epiphone Les Paul Studio is a great choice.
An intermediate player's budget offers access to a great range of many guitars with features that are not readily available on a beginner's budget. Like most things, you get what you pay for, but fortunately, most intermediate guitars are highly playable and will likely serve the guitarist for many years to come.
While shopping for a guitar, please be sure to go to a music store and try a guitar before purchasing it. You will only know how the guitar feels in your hands and sounds to your ears.
Related Posts
Best Amazon Prime Black Friday Deals on Fender Guitars
How to Buy an Electric Guitar for Beginners
Best Electric Guitars With Thin Necks