Are you looking to purchase a 7-string guitar? You've come to the right place, we've researched the best 7-string guitars and reading this article will help you make an informed decision. Buying a guitar is an exciting milestone in every guitarist's life and is not to be taken lightly. 
Popularized by Steve Vai, the virtuoso known for his masterful guitar that consistently helped push the edge of guitar playing, the first 7-string guitar was the Ibanez UV7, Vai's artist model released in 1990. Today, players such as Jeff Loomis (Arch Enemy, Nevermore), Frederik Thorendal (Meshuggah), Chris Letchford (Scale the Summit), and countless others are famous for their use of the 7-string guitar. These players are helping the 7-string become a mainstream item and almost a necessity for certain types of music. These guitars allow for more finesse and technique while also offering a low-end sonic range that is iconic with the music they frequent.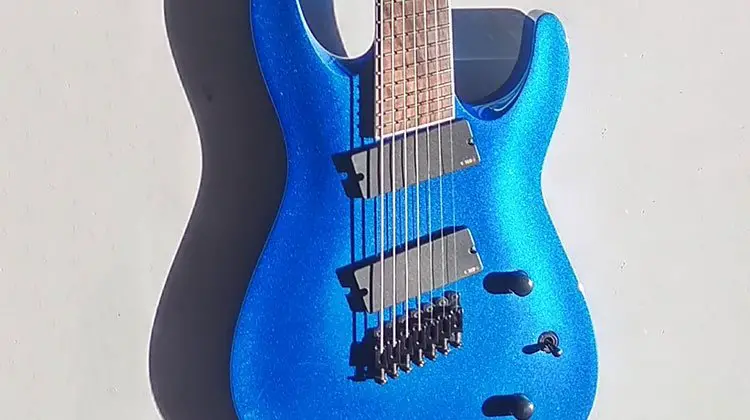 If you are interested in playing music with a heavy low end that features technical capabilities (such as djent, nu-metal, or even prog-rock), a 7-string guitar may be the kind of guitar you are looking for. While many of these guitars can cost a pretty penny, we've taken the time to research the best 7-string guitars (from entry-level to high-end guitars) to help make your buying decision a little easier.
What Do You Want or Need?
Before making a guitar purchase, you must ask yourself a few questions to help you streamline your purchase, such as:
What is my budget?
What are the features I am specifically looking for?
What features am I willing to compromise in favor of other features?
Am I going/willing to make modifications on this guitar?
How long am I expecting this guitar to suit my needs?
Our research has concluded that the Ernie Ball Music Man John Petrucci Majesty is the best 7-string guitar currently on the market. However, everyone's needs, stylistic preferences, and budgets are different, and for that reason, we will also be discussing:
Jackson JS22-7 DKA Dinky HT
Ibanez Gio GRG7221QA
Ibanez RG7421
Schecter Demon 7
ESP LTD Stephen Carpenter SCT-607B
Paul Reed Smith SE Mark Holcomb 
Ernie Ball Music Man John Petrucci Majesty 7 – Best Overall 7-String Guitar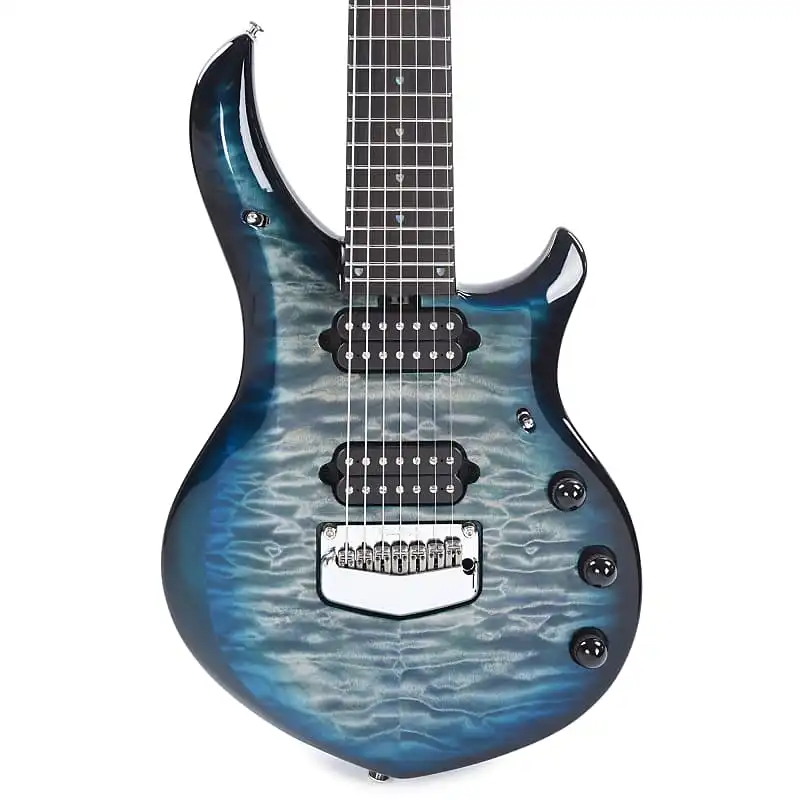 While many tend to know Ernie Ball by the strings they produce, they have a long history of building high-quality instruments. The John Petrucci Majesty is no exception, offering an example of expert craftsmanship that will feel comfortable in your hands. For those that are unfamiliar, John Petrucci is the guitar wizard best known for his work in the band Dream Theater. 
Equipped with a DiMarzio Sonic-7 humbucker in the bridge position and a DiMarzio Rainmaker-7 humbucker in the neck, this guitar promises to deliver supreme tones for any genre you may find yourself playing. As a bonus to onboard sonic controls, this guitar also features a Piezo bridge pickup, allowing for a more acoustic type of sound when you need it. A custom floating vibrato is also equipped to add more expression capabilities.
Of course, while this guitar may be the best on the market, it is also only really suitable for those that have no budget concerns. 
Pros:
Superbly crafted
DiMarzio pickups, in addition to the Piezo, gives the guitarist a wide range of tones
24-fret neck for 2-octave playing
Floating vibrato
Cons:
Expensive and not feasible for someone looking to buy their first guitar
There are no options available for left-handed players
Jackson JS22-7 DKA Dinky HT – Best 7-String Guitar on a Budget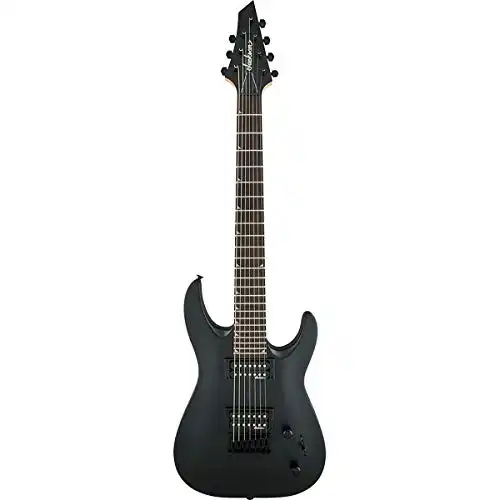 Jackson has long been a household name in the metal music genre, and rightfully so, as they have been crafting guitars tailor-made for the genre since the 1980s. The JS22-7 DKA Dinky HT is a sleek archtop guitar that is the perfect entry-level 7-string guitar for any guitarist looking for their first 7-string without needing to break the bank.
This guitar comes with stock Jackson humbuckers and a 24-fret neck. All in all, there isn't much more one can ask for for a budget guitar without making modifications.
Pros:
Very inexpensive and a great entry-level guitar for any budget
24 frets for 2-octave playing
Cons:
Pickups leave a little to be desired, ideal for modification
No left-handed options are available
Ibanez GIO GRG7221QA – Best 7-String for Beginners

This Ibanez guitar has a gorgeous quilted maple top and a smooth 24-fret neck made from treated New Zealand pine. Priced around the same price point as the Jackson mentioned above, this Ibanez model offers much of the same value, with its own unique differences. 
The first to note is that this model guitar comes with a couple of different finishes, allowing the guitarist to add a little bit of their own aesthetic preference. Another note is that the guitar comes equipped with a 5-way pickup selector switch, offering a little more possibility in the sonic department. As far as pickups go, the guitar comes with Infinity R humbuckers in both the neck and bridge positions.
Pros:
Quilted maple finish with multiple options for finish
24-fret neck with sleek playability
5-way selector switch
Great guitar for the price
Cons:
Stock pickups may leave a little to be desired after some time
No left-handed models are available
Ibanez RG7421 – Best Mid-Range Priced 7-String Guitar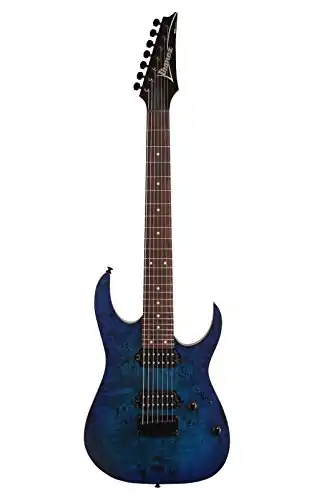 For guitarists looking for a step above the Ibanez GIO GRG7221QA mentioned above, the RG7421 is a perfect guitar, offering the incredible precision and playability that Ibanez is known for. While it may be a little more expensive than the previous model, it can still be acquired without putting too much of a dent in your wallet.
This guitar comes with Ibanez's Wizard II-7 neck, crafted from 3 pieces of maple, with a Jatoba fretboard, giving players greater access and comfort during the execution of more complex playing styles. This guitar also comes equipped with Ibanez Quantum 7 humbuckers in both the neck and bridge positions, as well as a 5-way selector switch. To top it off, Ibanez also has multiple colors and finish options available.
Pros:
Wizard II-7 with Jatoba fretboard allows for comfortably fast playing
5-way selector switch with Ibanez Quantum 7 humbuckers gives access to a large sonic palette
24 frets for 2-octave playing ability
Great value
Surprising low-end capacity
Cons:
Pickups may leave a little to be desired depending on one's needs.
ESP LTD Stephen Carpenter SCT-607B – Best Unique 7-String Guitar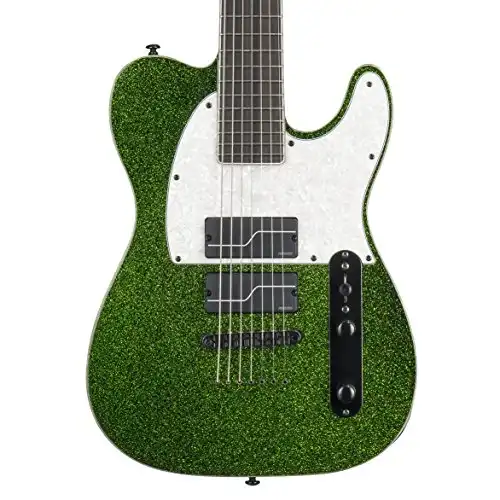 For those with a little extra to spend and who are in the market for a unique guitar, the SCT-607B Stephen Carpenter (of Deftones fame) artist model offered by ESP LTD is a great choice. The SCT-607B has a shape similar to the traditional Fender Telecaster but is a standout guitar in its own way.
This guitar sports a 3-piece maple neck and a Macassar Ebony fretboard. The 27" scale neck technically makes this guitar a baritone, giving the guitarist the capability of using very low tunings. Inside the guitar are 2 Fishman Fluence SRC active pickups, with a push/pull control on the volume knob to switch each pickup into either "Modern Active" or "Modern Passive" modes for more tonal options with a standard 3-way switch to change the pickup being used. 
Last but not least, the sparkle green finish on this guitar rounds out the whole package. It is easy on the eyes, looks semi-traditional, but is well geared towards the heaviness you may want to play on it.
Pros:
Very unique looking guitar suited for a genre where most guitars tend to look similar/have similar body styles
Excellent pickups
Push/pull knob offers more tonal options
27" scale neck offers stability with lower tunings
It comes with a guitar case
Cons:
Some may not like the traditional Telecaster-type body style
No left-handed models are available
The sparkle green finish may not be for everyone
Price-point not feasible for those on a budget
PRS SE Mark Holcomb – Best 7-String Guitar for Metal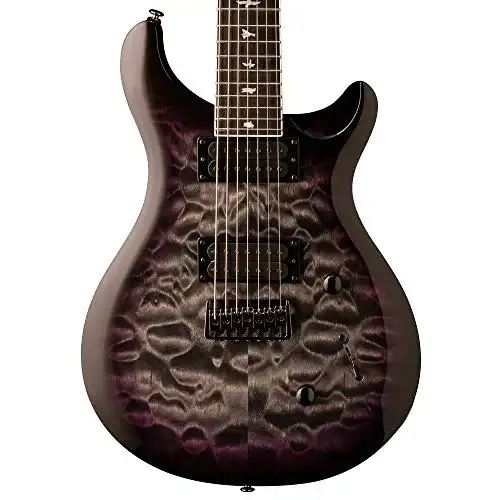 Another artist model on the list, and perhaps the best 7-string guitar for the metal genre, is Mark Holcomb's PRS SE model. While Paul Reed Smith has received a reputation for creating some of the finest guitars on the market, a 7-string guitar typically isn't on their greatest hits list. 
However, the Mark Holcomb artist model deserves to be on that list. This guitar comes crafted with a mahogany body and an exquisite-looking quilted maple top. The neck is a 3-piece maple neck with an ebony fretboard at a scale of 25.5", which will give it stability in lower tunings and standard tuning. The PRS Birds decorate the fretboard of this beautiful guitar, rounding out the trademark that is so iconic to PRS guitars.
The guitar sports a Seymour Duncan Alpha humbucker in the neck position and a Seymour Duncan Omega humbucker in the bridge position. A push/pull function on the tone knob gives the guitarist the capability to split the humbuckers into single coils, further adding to the sonic capabilities of this guitar. A standard 3-way selector switch is employed to switch between the Alpha and the Omega. 
Pros:
Wonderful stock pickups
A slightly longer neck scale provides stability in lower tunings, as well as the standard tuning
Push/Pull Tone knob function to split the humbuckers into single coils furthers the tonal dynamics offered
Excellently crafted guitar, and it will be hard to find a better guitar at this price point without breaking the bank
Great looking guitar
Retains the standards of PRS build-quality despite being an out-of-the-norm model for the guitar company
Cons:
It comes with a gig bag rather than a case
No left-hand models are available
Aesthetically, some may not enjoy the PRS-style of guitar, especially for metal
Conclusion
A 7-string guitar is integral to certain types of music. Whether you are a beginner looking for an entry-level budget guitar, an intermediate, or a pro, there are so many guitars on the market that it can often become overwhelming when making a purchase. 
Of course, buying a guitar is never something that a guitarist should take lightly, and there are many things to consider. While we have found the Ernie Ball Music Man John Petrucci Majesty 7 to be the (dare I say) majesty of 7-string guitars on the market, the price point makes it nearly inaccessible to most guitarists on a budget. 
Yet, the two most affordable guitars on this list (the Jackson JS22-7 DKA Dinky HT and the Ibanez GIO GRG7221QA) have distinct features that set them apart from one another. 
Due to these reasons (and the answers to the questions you asked yourself at the beginning of this article), it is vitally important to make sure you go to a music store and try these guitars out for yourself. Without having them in your hands, you will never know for sure how the guitars feel or if the sound the guitars produce is suitable to your liking. One should never make the mistake of purchasing a guitar without first taking the time to see if the guitar fits them and their needs.
Related Posts
Best Amazon Prime Black Friday Deals on Fender Guitars
Best Intermediate Electric Guitars
Essential Guitar Pedals for Metal
Best Electric Guitars With Thin Necks