Could you benefit from having a guitar with a thin neck? Maybe you have been playing a while and find that your current guitar's neck feels a bit cumbersome. Or perhaps you're a new player and want to research as much as you can before picking out a guitar. Or you could even be a seasoned guitar-slinger who knows they like thin necks and wants some input on what guitar should be next in line for your arsenal. We're here to help with our list of the best electric guitars with thin necks. 
Whatever the case, we've put in the research and put together a list of guitar reviews and recommendations for whatever your budget may be. 
When you hear a guitarist refer to a neck as feeling "fast," they usually refer to how thin the guitar's neck is. Many guitarists find thin necks easier to navigate and more enjoyable to play. A thin neck won't necessarily make you play more like Steve Lukather or John Petrucci, but we can try to understand why those types of players gravitate towards thinner necks.
What makes a neck thin?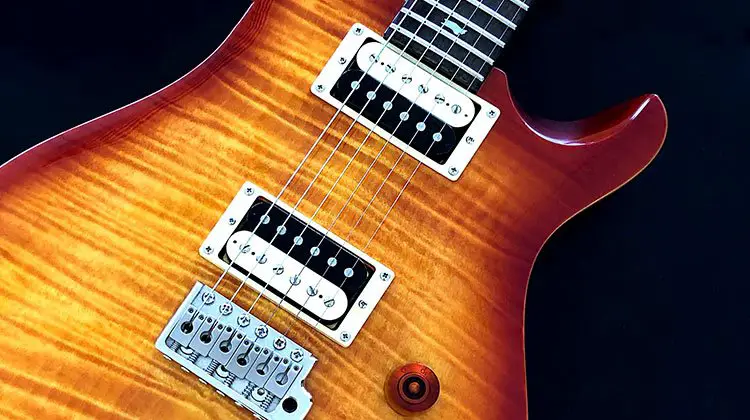 First, we need to be clear on what defines a "thin neck." Trying to understand the aspects of a guitar neck can be a bit confusing and even frustrating. When looking at a spec sheet, you'll see terms like "fretboard radius," "nut-width," "scale-length," "neck profile," etc.… These are all important, but not really what we're worried about at the moment. 
When we talk about the thickness of a guitar neck, we're referring to its depth. This depth is the distance from the front of the fingerboard to the back of the neck. This bit of info isn't often listed on a guitar's spec sheet and can be challenging to find without pulling out some precision calipers and measuring yourself. The manufacturer's description of the neck profile can occasionally help. When the profile says "thin C" or "slim U," you can assume it will be thinner than your average neck. However, the descriptions often are not so clear. Lucky for you, we've done the grunt work and determined a threshold for what we're going to call a "thin" neck. 
The number? 0.820″ measured at the first fret.
Why? That is the measurement for the Modern "C" shape used on standard Fender models for the last 25(ish) years. It also seems to be a pretty common standard for other builders who make similar style guitars. It's debatable whether the Modern "C" is itself a thin neck, but it is by no means considered a chunky neck. So we're going to say that for a neck to be considered "thin," it must measure under 0.820″ depth at the first fret.
What's the appeal?
So now that we know what makes a guitar neck thin let's understand why some players prefer them.
The most significant advantage of a thinner neck is that it encourages proper left-hand technique. This involves having your thumb centered on the back of the neck, which allows your fingers to approach the strings evenly no matter what fret you are playing on. Watch a video of a classical guitarist like Andres Segovia or a jazz guitarist like Joe Pass. Notice how their left thumbs never come over the top of the neck. Using this technique on a thicker neck or a "V" contour neck can feel a little cumbersome.
Guitarists who prefer thicker necks and contoured necks tend to like how they feel when fully gripped in the palm of their hand. Some of the greatest guitarists in history played with their thumbs hanging over the top of the neck." Look at Jimi Hendrix, Jeff Beck, Stevie Ray Vaughan, or Eric Clapton… they're all textbook "thumb hangers." Their styles of chording and bending even call for playing that way. While these are valid observations, a thinner neck still allows for this kind of technique, giving you access to the best of both worlds.
So why wouldn't you want a thin neck? 
One potential concern is stability. Less material in the neck means that it may be more sensitive to anything that causes the wood to flex or swell. Changes in temperature, humidity, or even what gauge strings you use can affect the playability of a guitar, and those changes are likely to be exaggerated on a thinner neck.
You may also not want a thin neck for the simple fact that it may not feel right to you. Players with large hands tend to like the substantial feeling of a more significant neck. More aggressive players may need a guitar that can withstand some abuse! Everyone is different. Sometimes you have to go on "what feels right." You may have to try out several guitars with varying sizes of necks and go with what works!
Reviews and recommendations
Alright! If you've made it this far, you're probably ready to see our recommendations! When measured at the first fret, each guitar had to have less than 0.820″ depth to qualify for this list. We also tried to pick guitars that would work well with as many styles of music as possible. Whether you want to play Dream Theater or The Beatles, we've picked out a guitar for you!
Sterling By Music Man Luke LK100 – Best Overall Electric Guitar With a Thin Neck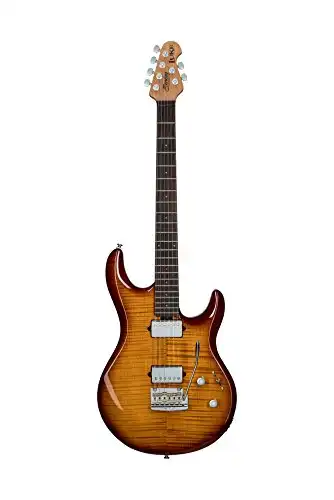 There are very few guitarists who could hold a candle to Steve Lukather's versatility. With a discography of over 1,500 albums, it's safe to assume he knows a thing or two about what makes a guitar great. This guitar perfectly exemplifies that. 
The more budget-friendly brand under the Ernie Ball/ Music Man umbrella, Sterling has taken Luke's American signature model and made a more affordable, albeit high-performance, machine.
The neck depth measures 0.811″ at the first fret, yet the mad scientists at Sterling/Music Man have still managed to somehow leave a fairly pronounced "V" profile on the back. It's a very fast-feeling neck that feels incredibly comfortable when gripped for a nice big bluesy string bend.
Th LK 100 features a 25.5″ scale length, dual humbuckers, and a floating tremolo bridge. You might say it's a perfect blend between a Strat and Les Paul. Perhaps its most unique feature is its built-in 12db boost activated by pushing down on the volume knob. The Luke LK100 is a real workhorse guitar that looks as good as it plays and sounds. You'd be hard-pressed to find anything that competes with this, especially when you consider how affordable it is.
Pros:
A thin neck that doesn't compromise on comfort.
Premium features on a mid-level priced instrument.
Suitable for just about any style of music.
Cons:
A coil tapping option would be nice for single-coil sounds.
PRS SE Custom 24-08 – Best Value Thin Neck Guitar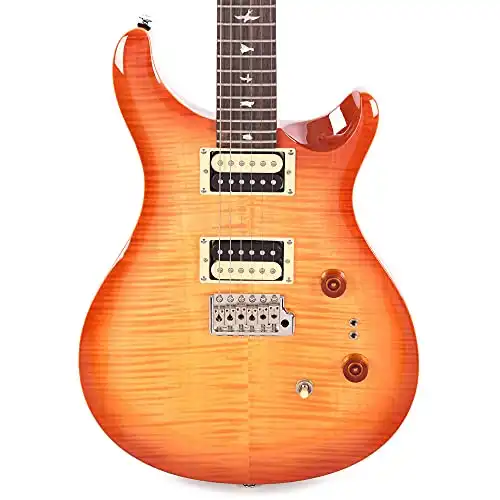 The PRS SE Custom 24-08 is another fantastic instrument that could have easily made the "Best Overall" spot on this list. It's on the more affordable end of the PRS line, but make no mistake, this guitar outshines others that go way above this price point.
The Custom 24-08's neck depth measures 0.78″ at the first fret, which No part of this guitar hasn't made navigating all 24 frets a breeze. The neck is made of 5 piece maple laminate which makes it incredibly stable. The set-neck construction also gives the instrument extra resonance and sustain.
Besides its thin and fast neck, the Custom 24-08's best feature is its pickups and coil-tapping options. It features a standard 3-way switch, 2 humbucking pickups, and extra switches that allow you to coil-tap either or both pickups for single-coil tones. You can get a vast array of sounds out of this guitar.
Pros:
Tons of tonal options with coil-tapping
Skinny and comfortable neck
Cons:
Hardware isn't quite as nice as the USA-made counterpart
Ibanez Gio Series – Best Budget Thin Neck Guitar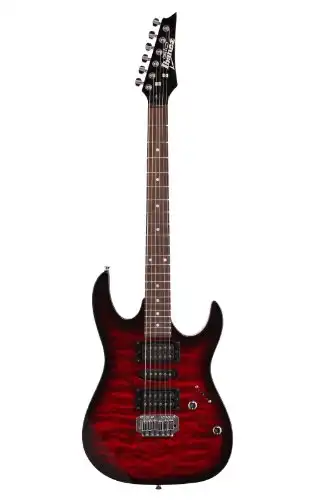 The Gio Series have Ibanez's most affordable models. Any model from this series is a perfect option for someone who is just starting to play guitar. It's also a great option if you are considering switching to a thin neck but aren't sure if you are ready to make a significant investment.
If you want a dirt-cheap guitar that is easy to play, stays in tune, and has a thin neck, you should check out the Ibanez Gio Series. The neck depth at the first fret measures 0.76″, making it substantially thinner than other similarly priced guitars. What's especially great about this series is there are several options for colors and pickup configuration.
Charvel Guthrie Govan Signature – Best Premium Thin Neck Guitar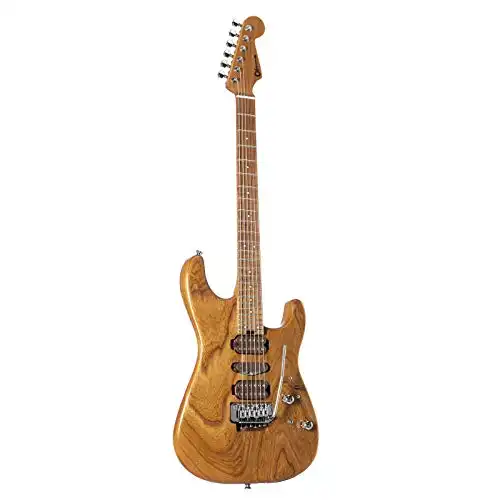 If you were to compile several lists of the best guitarists across a wide variety of genres, you'd probably find Guthrie Govan in nearly all of them. It should be no surprise that his signature model is one of the best guitars money can buy.
The Charvel Guthrie Govan signature model has five-way switching with a humbucker in the bridge and neck positions and a single coil in the middle. The Humbuckers can be coil-tapped, which gives you vast options for your tonal palette. 
The neck is 0.810″ at the first fret. It is made of roasted maple with graphite reinforcement, making it impervious to be affected by humidity and temperature changes.
The specially-designed bridge and perfectly cut bone nut allow you to explore the full range of the tremolo without knocking the guitar out of tune.
The lightweight roasted body makes this guitar extraordinarily resonant and acoustically loud.
No part of this guitar hasn't been maximized to its fullest potential. This thing is an absolute beast, just like Mr. Govan.
Pros:
Perfectly ergonomic.
Impeccable build quality.
Most Versatile guitar on this list.
Cons:
Finish options are minimalistic. Some people may want a flashier guitar, especially at a high price point.
Ibanez RG550 – Best Guitar With a Thin Neck For Shredding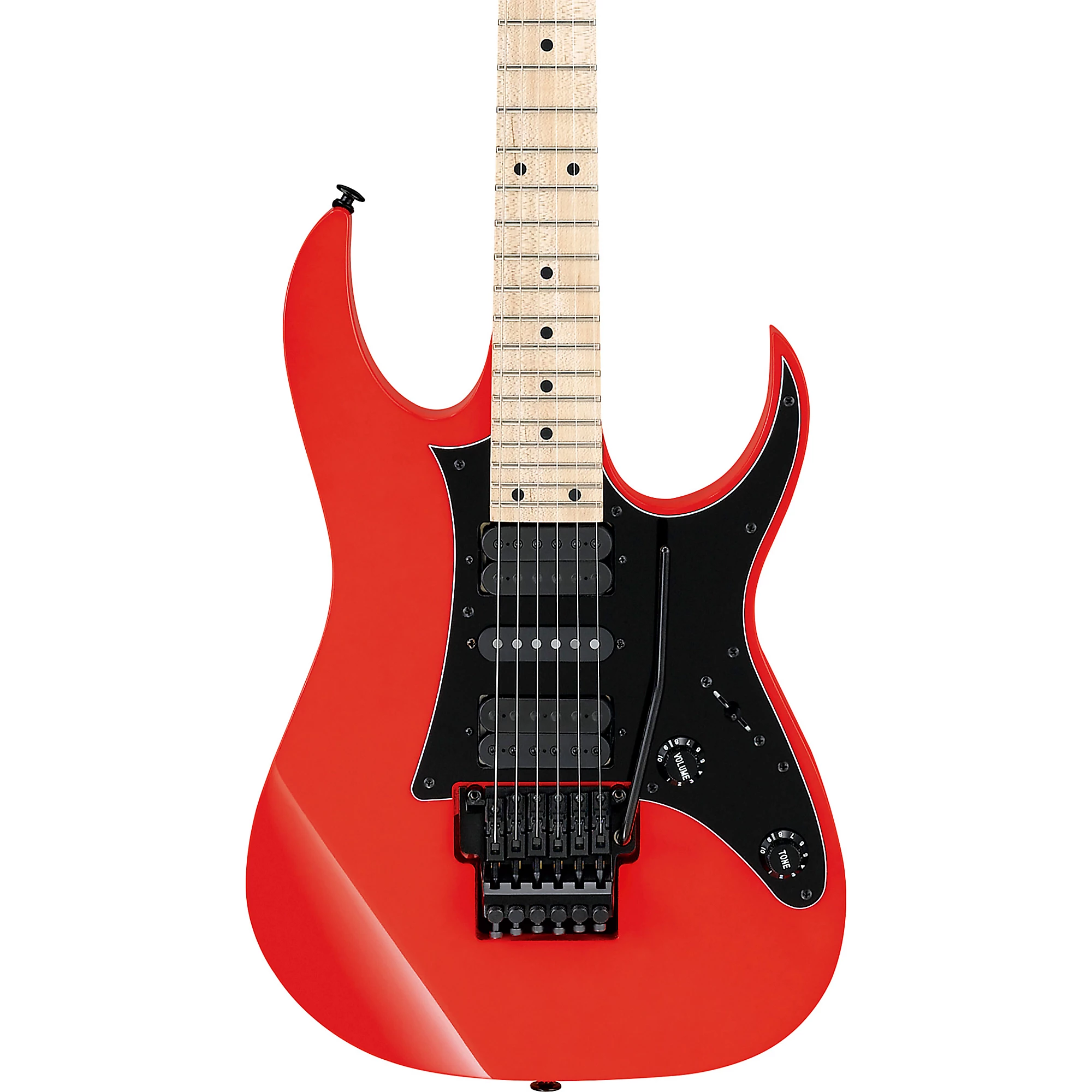 We get it. Maybe you want your guitar to scream, "I'm here to SHRED!" You're in luck because the Ibanez RG550 doesn't want to do anything else!
The RG550 sports the famous Ibanez "Super Wizard" neck profile, which measures in at a razor-thin 0.67″!
It also features an HSH pickup configuration and a Floyd Rose-Esque "Edge" tremolo and locking nut so you can dive bomb to your heart's desire. 
Pros:
Razor-thin neck and flat radius are designed for speed.
The locking nut ensures that the guitar will go back in tune after using the tremolo.
Bright color options give the guitar a retro 80's look.
Cons:
Edge tremolo and locking nut can make string changes more difficult
If you want to do anything but SHRED, you best look elsewhere.
G&L Tribute ASAT Bluesboy Semi-Hollow – Best Vintage Vibe Thin Neck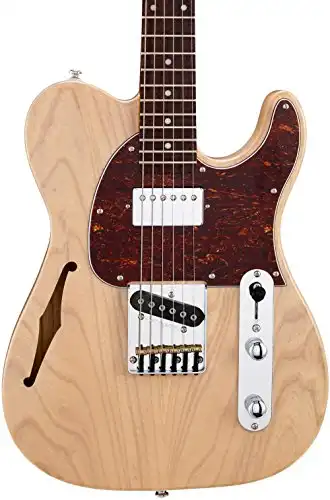 So far, all of the guitars on this list have all been pretty modern looking, which some of our vintage-guitar fans might not be keen on. If that sounds like you, you may consider trying out the G&L ASAT Bluesboy. It has a classic look, but some features give it a more modern sound and feel.
The neck on the Bluesboy is right at the cutoff at 0.820″. Some may say it doesn't make the cut for being considered thin, but it's by no means chunky. The "C" shape neck profile and 9½" radius still feel pretty slick.
The bridge pickup is a specially designed G&L MFD Single Coil Pickup. The bridge pickup has a little more output and frequency range than your typical T-style bridge pickup. The higher output allows it to pair very nicely with the neck's humbucker pickup. 
Despite its seemingly simple appearance, this guitar is quite versatile. It can do anything from chicken picking to jazz chord comping.
Pros:
Timeless look and style.
Affordable.
Fewer bells and whistles mean less that can go wrong.
Cons:
The neck may not be thin enough.
In conclusion
Well, there you have it. We've uncovered what makes a neck thin and why so many players love the feel of a thin neck. The most important thing to remember, though, is that a skinny neck doesn't automatically improve your technique or help you play faster. What works well for some doesn't always work well for others. We can talk about neck measurements until the cows come home, but when all is said and done, nothing truly beats just trying out a bunch of guitars and making a decision based on sound and feel.
Hopefully, this article has shed some light on the mystique of thin necks and gets you pointed in the right direction. Now get to practicing!
Related Posts
Best Amazon Prime Black Friday Deals on Fender Guitars
Best Intermediate Electric Guitars
How to Buy an Electric Guitar for Beginners