Do you want to know what guitar Slash plays? Slash is one of the most well-known Gibson Les Paul players in rock. He has an enormous collection of Les Pauls, but his most iconic and loved guitar is a 1959 reproduction constructed by Kris Derrig.
 The guitar, which came with Seymour Duncan Alnico 2 pickups, became Slash's primary studio instrument. In 2018, Slash had a collection of 221 guitars worth a total of $2 million. 
For a while, the guitar accompanied him everywhere. This explains why the Les Paul image is so closely intertwined with Slash. During the early touring of Guns N' Roses, the guitar was stolen by someone in the crowd. It was recovered by security. It happened a few more times, and that was the end to taking the '59 Les Paul on the road.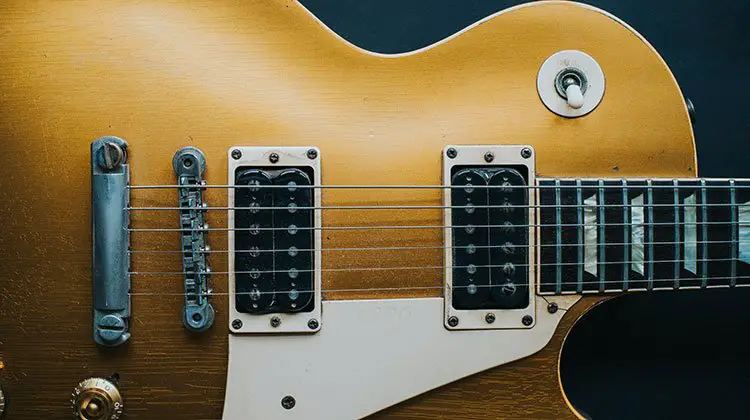 But as the royalties started coming in, Slash began amassing a collection of genuine Gibson Les Pauls. From trademarked versions to the co-designs of today, which put Slash in the role of Brand Ambassador for the sometimes-struggling USA manufacturer.
Gibson has partnered with Slash on twelve signature models, the majority of which are variants on his beloved Les Paul. He has, however, had two trademark guitars made by B.C. Rich USA and the B.C. Rich Custom Shop, both of which are variants of the brand's Mockingbird design.
Early Guitars Slash Played
The very first guitar Slash ever got was a one-string Spanish acoustic guitar, and he played it for a while with only one string until he was knowledgeable enough to add the other five strings. It's unknown where or who he got his first acoustic guitar. 
Slash's first electric guitar was a Memphis Les Paul copy given to him by his grandmother.
As he gained knowledge and experience Slash experimented with various other instruments until settling on Les Paul guitars in 1985.
Slash's manager purchased Kris Derrig's Les Paul 1959 replica in late 1986 to record Appetite For Destruction. 
Slash began using Les Paul Standard guitars on stage in the early 1990s, specifically two 1987 versions that he carried on tour with Guns N' Roses, Slash's Snakepit, and Velvet Revolver. During this time, he also utilized a B.C. Rich Mockingbird, a Gibson EDS-1275, a Guild Crossroads, and a Travis Bean 1000.
Other Guitars Slash Plays
The B.C. Rich Mockingbird is the lone electric guitar Slash uses on stage outside of the Gibson world. He has used it on previous tours for songs like You Could Be Mine, Chinese Democracy, and Sorry.
Before manager Alan Niven arrived at the studio with the legendary '59 Les Paul, most of the guitarist's parts had already been written with the Mockingbird and Warlock. But since 2010, Slash has gone back to mainly using his signature Les Pauls for live performances.
Who is Slash?
If you're not familiar with who Slash is. He is best known as the lead guitarist for the American hard rock band Guns N' Roses. He rose to international prominence in the late 1980s and early 1990s. Born Saul Hudson, he is a British-American musician, songwriter, and record producer better known by the stage name Slash.
Going to California
Slash mainly lived with his father Anthony until the age of five, when they moved to Los Angeles to join his mother Ola. His parents were artists who worked with clients like David Bowie, Neil Young, and Joni Mitchell. In L.A., Slash encountered many movie and music stars, maybe igniting his desire to become one himself. In 1979, he established his first band with his buddy Steven Adler, but they never performed live.
Slash grew up raised in Los Angeles and began playing the guitar when he was a child. A family friend gave him the nickname "Slash" because he was always in motion. In 1985, he joined Guns N' Roses, and his riffs on songs like "Sweet Child o' Mine" earned him international acclaim. After leaving Guns N' Roses in 1996, Slash worked in the studio and formed various bands, including the well-known Velvet Revolver.
In 2011, Rolling Stone ranked him 65th on its list of "The 100 Greatest Guitarists of All Time." Then, he, along with the other Guns N' Roses members, was inducted into the Rock & Roll Hall of Fame in 2012.
Most regular individuals would have died as a result of Slash's indulgences throughout the years. Most people's hair would have fallen out from his band fights. Despite this, he continues to work at the age of 55. He no longer uses drugs or alcohol, and he no longer smokes. He has stated that he has loved listening to Adele and constructing Lego with his boys in recent years. But he still enjoys playing guitar like a beast.
Related Posts
What Guitar Does Dave Grohl Play?
Best Intermediate Electric Guitars
How to Buy an Electric Guitar for Beginners