Learning how to read standard staff notation for guitar doesn't have to be painfully boring! A Modern Method For Guitar (Volume 1) by William G. Leavitt is the answer.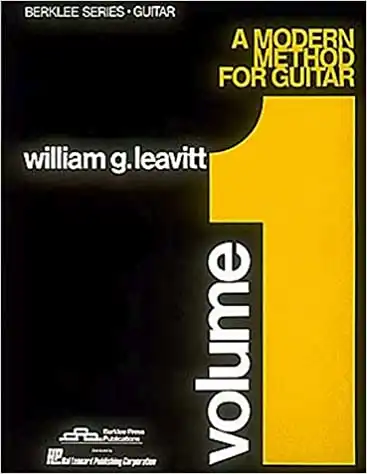 It starts out like most beginning method books with a quick introduction of the guitar. This includes how to tune the guitar and other fundamental music concepts. The staff, clef, sharps, flats, key signatures, time signatures, and common rhythmic durations are all introduced in the early pages. Then instead of pages of boring exercises, it jumps in with simple yet challenging and musical exercises. By the second page of exercises, new students are reading triads from the staff!
This comprehensive beginning-level starter book teaches a wide range of guitar and music fundamentals. In addition to teaching how to read music, it includes scales, moveable chord forms, and arpeggio studies. There are also special exercises for developing technique in both hands, accompaniment techniques, and more.
A Modern Method For Guitar (Volume 1) is a required textbook for freshman guitar students at Berklee College of Music. If you're planning on going to Berklee this is a good way to get a jump start on your studies. Also good if you just want to improve your sight-reading and overall skills as a guitarist.
Some formats and editions also include access to audio examples and DVD-ROM with video lessons.
The complete 3 volume series is also available in a single book.
Check Price & Availability at Amazon

We earn a commission if you make a purchase, at no additional cost to you.

11/26/2023 04:33 pm GMT

Check Price & Availability at Amazon

We earn a commission if you make a purchase, at no additional cost to you.

11/26/2023 01:47 pm GMT

Check Price & Availability at Amazon

We earn a commission if you make a purchase, at no additional cost to you.

11/26/2023 09:46 am GMT
Related Posts