Are you trying to find a great music theory book made just for guitar players? I've looked at the best on the market — some old standards and some exciting, newer books — to help you find what you need to take your next step as a guitarist and a musician.
Search the Internet, and you will end up with over 1,000 suggested titles. It's overwhelming.
Sure, you know it's important to study music theory because it will improve your ear, your knowledge of notes, rhythm, scales, chords, and arpeggios. But why? It will speed up how quickly you learn to play the guitar and give you the tools to compose or improvise with other musicians. You will understand what makes music sound the way that it sounds.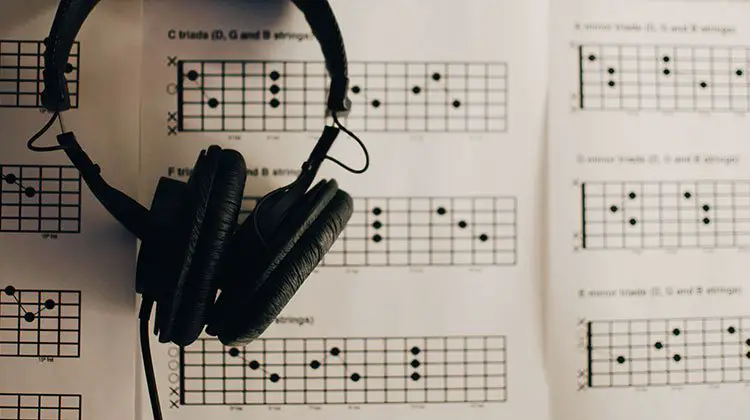 The challenge
But isn't music theory hard? One of the most challenging things to do is select a book that isn't too hard for a beginner or too simplistic for an intermediate or advanced guitarist that still teaches you something about music theory that you didn't know before. Reviewers frequently blame the book when they may not understand their own talent and experience.
The solution
I've taken the time to look at dozens of books so that you can pinpoint the right book for your level of experience.
For example, many of you won't go wrong with picking up Ralph Denyer's The Guitar Handbook: A Unique Source Book for the Guitar Player – Amateur or Professional, Acoustic or Electric, Rock, Blues, Jazz, or Folk. It's a great reference manual for some beginners but primarily for intermediate to advanced players, and I've rated it best overall.
Maybe you are new to the guitar and music theory. Denyer's book might be too advanced and sit on your shelf for a long time. Look at some of the books better suited for beginning guitarists listed here. I've also given my recommendations for the best book for young guitarists. Take this list to your instructor, if you have one, and see which one she thinks is best for you now.
Best overall book for guitar music theory
The Guitar Handbook: A Unique Source Book for the Guitar Player – Amateur or Professional, Acoustic or Electric, Rock, Blues, Jazz, or Folk by Ralph Denyer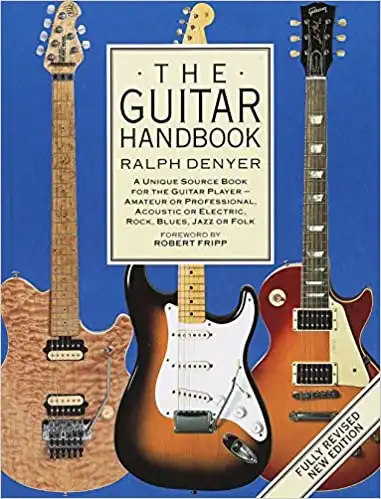 A book for aspiring gearheads, this classic is from Ralph Denyer of Blonde on Blonde. With its reference book design and plenty of charts and full-color photos, this book is best for motivated beginners to intermediate guitarists. Even more advanced guitarists will discover some value in The Guitar Handbook. 
Students will find this hefty book helpful to revisit concepts between lessons. Considered by some to be the bible for guitarists, Denyer's insights into basic music theory will make you a more refined guitar player, no matter your skill level. 
The Guitar Handbook offers:
Comprehensive explanations of chords
Easy to read music theory principles 
Examples of modal playing
Techniques for intermediate and advanced players
As a bonus, The Guitar Handbook has a handy electronics section — an entire chapter about the circuits inside your electric guitar and how they work. If you want a workhorse that will help you understand everything about your guitar, this is the one.
This is an older book from 1992 and is overdue for an update on recent developments in recording equipment. Of course, modes, scales, chord structures, and inversions haven't changed with the decades, so, in many ways, the book is still as fresh as it was three decades ago. 
Weighing in at 256 pages, The Guitar Handbook can also be a little daunting. Just remember that it's a reference book and not a novel, so don't try to absorb it all in one night.
One version available on the market contains a forward by Roger Fripp of King Crimson. Another version has a forward by Andy Summers of the Police. Pick your poison carefully if reading the forward is your thing.
​​You will return again and again to this essential resource. More than a coffee table book, it's well worth your hard-earned money.
Best guitar music theory book for beginners
Vaideology – Basic Music Theory for Guitar Players by Steve Vai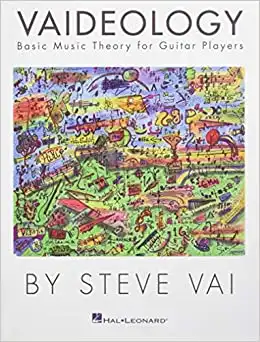 Wait. The best book for beginners is written by one of the most accomplished shredders of all time? Stay with me here. Steve Vai knows his way around the guitar. Sure, he studied with Joe Satriani while a teenager, then became a transcriptionist for Frank Zappa, and finally a member of Zappa's band before joining forces with David Lee Roth, Alcatrazz, and White Snake. Even so, writes Megan Roos of Rock & Roll Globe, "Vaideology is really intended for music theory beginners who are eager to master a new skill."
Vai focuses intensely on music theory for the guitar. Vaideology is heavy with the "basics" of music theory from chords, scales, harmonics, key signatures, and modes. Vai's book also introduces reading and writing music, emphasizing the importance of understanding music theory for guitarists who want to solo, compose, or simply better understand their instrument. Vaideology includes exercises, diagrams, tips, practice methods, and a new way of looking at music for even the experienced students. 
For true beginners, he defines basic concepts like time signature, the time value of notes, bass and treble clef, terms for music dynamics (forte anyone?), triads, modes, and circle of fifths. He offers intermediate guitarists a few gems, like his discussion of polyrhythms and his artwork on every page. From an ergonomic perspective, the book is available as an ordinary paperback and a spiral-bound book that will lay flat for those who prefer it.
More advanced players will likely find this book too simple. Beginners may wish for more instruction on technique. At 96 pages, it can't be all things to all people, but Vai's clear, concise tone and love for the instrument make it a valuable book for beginners nonetheless.
Best book for music theory for intermediate and advanced guitar players
Theory for Guitarists: Everything You Ever Wanted to Know But Were Afraid to Ask (Guitar Method) by Tom Kolb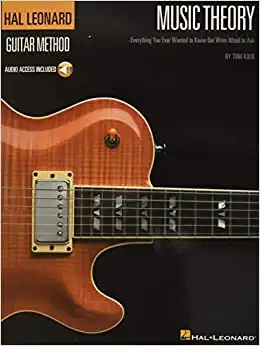 Part of the Hal Leonard Guitar Method series, this slim, 106-page book is another classic on the basics of music theory for the late-beginner to more advanced guitarists.
Theory for Guitarists contains plenty of worksheets and quizzes so you can drill yourself on your newfound knowledge. You'll also receive a code to access an online library of 94 tracks of music examples, scales, modes, chords, and ear training exercises when you purchase the book. 
Kolb offers a deep dive into music theory and doesn't candy-coat it, but who doesn't love a challenge? This one isn't for beginners, but it's perfect for the guitarist studying with a teacher or with a bit of experience but who is new to music theory. If you order an e-edition from a bookseller, be aware that purchasers sometimes have difficulty accessing the online tracks that add so much to the value of this book.
Theory for Guitarists includes tab, so you don't need to read music to get started. Make sure you have a good chord book on hand, as some readers find that the book is lacking in this area.
Readers with previous experience with other instruments will find this book helpful as they take a new look at music theory from the perspective of the guitar.
Too many guitarists leave books like this to gather dust under a pile of guitar magazines. If that's you, wipe the dust off and take a new look at it. You'll likely learn something new. If not, add a copy to your guitar library and get to work.
Best music theory book for young guitar players
Hal Leonard Guitar Music Theory by Chad Johnson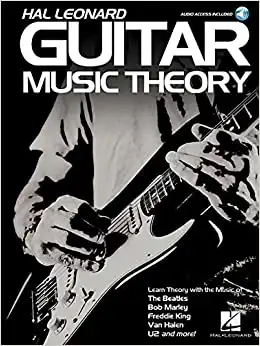 In addition to more advanced books like Kolb's Theory for Guitarists, Hal Leonard produces great guitar-focused music theory books for young people. My favorite is Chad Johnson's Hal Leonard Guitar Music Theory.
Johnson's song-focused book places famous works at the center of each lesson, including "Helter Skelter," "My Girl," and "No Woman No Cry." Studies presented in tablature with audio demos available online. 
This accessible book provides a bird's eye view of intervals, the musical alphabet, the major scale, circle of 5ths, triads, and dominant chords, as well as other topics.
Some readers may be frustrated because Hal Leonard Guitar Music Theory provides only high-level definitions for the concepts presented, while others describe it as easy to read and accessible. Ultimately, many young (or young-at-heart) guitarists will find this the right option to gain a quick, simple, and relatively painless introduction to music theory.
Best book for guitar music theory with multimedia add-ons
Ultimate Guitar Chords, Scales & Arpeggios Handbook For Beginners & Up by Damon Ferrante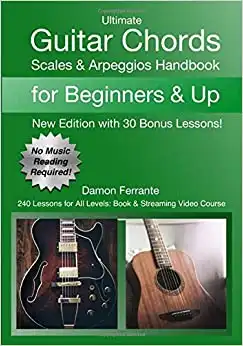 Damon Ferrante has written one of the best guitar scale books around in this book, but he didn't stop there. A handbook for beginners and a good refresher for more advanced players, Ferrante takes players beyond reading tab and covers finger positions, notes on the strings, and more to explain every chord, scale, and arpeggios. Ultimate Guitar Chords, Scales & Arpeggios Handbook For Beginners & Up also includes a respectable amount of music and fretboard theory.
The Ultimate Guitar Chords, Scales & Arpeggios Handbook for Beginners and Up includes lessons on:
Major Chords, Scales, Arpeggios, Theory, and Modes 
Minor Chords, Scales, Arpeggios, Theory, and Modes
The Blues & Pentatonic Scales, plus 7th Chords & Arpeggios 
Advanced Concepts (for example, 9th, 11th, and 13th Chords & Arpeggios)
Chromatic Scales & Advanced / Exotic Scales
You will also have access to online video lessons where Professor Ferrante shines as a teacher. You can watch videos and see and hear the notes, listen to what the scales should sound like, and see proper fingering for chords.
More than a book of chord charts, which catches some buyers by surprise. If that is what you want, look elsewhere, but buy this book, too.
If you want to know the how and why of what you are doing on the fretboard, then you can't go wrong with Ferrante's 122-page book. It includes all of the photos, examples, and lessons to show you what is what.
So, which one should I choose?
By now, you have decided that you want to increase your knowledge of music theory to learn music more quickly, compose or improvise with others, and finally understand what makes music sound the way that it sounds on your guitar. A carefully selected music theory book or online resource for guitarists is what you need. 
Remember to carefully match your ability level with the level of theory instruction offered in a book. Don't worry if you don't know what your ability level is. Ask a teacher or a friend who plays guitar. Then go over this list again.
My overall best pick is The Guitar Handbook: A Unique Source Book for the Guitar Player – Amateur or Professional, Acoustic or Electric, Rock, Blues, Jazz, or Folk by Ralph Denyer, an accurate reference book and covers the music theory ground needed by the motivated beginner to the intermediate guitarist and beyond.