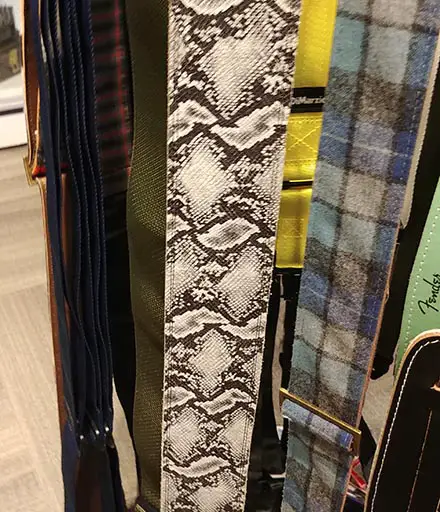 I spotted this new Henry Heller Boa leather guitar strap at Music Go Round.
For those of you not familiar with Music Go Round, they are franchise stores across the U.S. that focus on buying and selling used musical equipment. So I was a little surprised to see some new guitar straps there.
For selling your old unused gear, they're similar to Guitar Center and most pawn shops where they'll give you about 50% of what they think they can sell it for. You won't get top dollar but will save you time and stress compared to dealing with shady clowns on Facebook and Craigslist. I had a little better luck when I brought some stuff in to sell to them because I had a few items. They underpaid on one item and overpaid what I was expecting on another so it all averaged out.
Music Go Round's parent company Winmark, also operates the franchises brands Play it Again Sports, Once Upon A Child, Plato's Closet, and Style Encore. All these brands focus on buying and selling used products, so it looks like Winmark has that business model down.
Now back to the important stuff, and this guitar strap. It's a Henry Heller Boa snakeskin guitar strap. Handmade artisan strap from Peru. Made from premium garment leather with soft and smooth velvety suede backing.