For ambient guitarists, the journey isn't just about technique; it's about creating captivating tonal landscapes that enrich the soul. This article guides you to discovering the best ambient guitar pedals, ranging from timeless classics to innovative newcomers.
If you're entirely new to guitar pedals and ambient music, we've included some additional information, including tips on setting up your pedals, creating unique ambient guitar sounds, famous musicians known for using ambient guitar pedals, and a FAQ. Let's embark on this immersive sonic adventure.
The Essence of Ambient Guitar Playing
Guitar pedals have always been the secret sauce of countless musicians, allowing them to shape their sound in unique and creative ways.
If you're an ambient guitarist (or want to be), you know that crafting rich layers of sound textures and experimenting with unique, sometimes weird, tones is at the core of your musical style.
Unlike traditional "guitar hero" players who prioritize technique, ambient guitarists focus on creating new tones and soundscapes to serve their songs.
To master this distinctive style, one skill stands out: the art of utilizing guitar pedals, sometimes in combinations. The world of guitar pedals has been evolving rapidly, offering new sonic possibilities each year. But with so many options, how do you choose the best ambient guitar pedal for your setup?
Fear not; we've got you covered. In this guide, we'll explore some of the top ambient guitar pedals on the market, including both newcomers and time-tested classics.
Unveiling the Ambience: Why Pedals Matter
Guitar pedals are the essential tools in an ambient guitarist's arsenal. These devices allow for exploring rich textures, unique effects, and ethereal sounds. As technology advances, pedal options expand, presenting a delightful challenge when selecting the perfect addition to your pedalboard.
Ambient guitar pedals have gained popularity for their ability to produce dreamy, atmospheric tones perfect for creating lush soundscapes and captivating moods.
These effects pedals are designed to add depth, space, and texture to your guitar sound. These pedals manipulate the audio signal, enhancing it with reverb, delay, modulation, and other effects to create a more expansive and immersive sonic experience.
Ambient guitar pedals open up a world of sonic possibilities. They allow you to:
Enhance Creativity: These pedals inspire experimentation, pushing you to discover unique sounds and styles.
Create Atmosphere: Ambient pedals can transport your audience to different sonic landscapes, making your music more immersive.
Expand Musical Horizons: Whether you play rock, blues, or any other genre, ambient effects can add a new dimension to your music.
Selecting the Ideal Ambient Guitar Pedal
Choosing the right pedal is crucial in shaping your ambient guitar journey. Many options are available, each with its own sonic character and capabilities. To aid you in this quest, we've handpicked a selection of outstanding pedals that cater to various preferences and budgets.
When selecting an ambient guitar pedal, consider the following factors:
Sound Quality – Look for pedals that deliver pristine sound quality without adding unwanted noise to your signal. Or you might want to add some lo-fi noise and glitch to your tone.
Versatility – Choose a pedal that offers a range of effects and settings to suit different musical contexts. However, sometimes, a simple pedal you can set and forget might unleash your creativity more than spending time programming sounds using awkward menus and hidden parameters.
Build Quality – Ensure your pedal is rugged and durable to withstand the rigors of live performances and studio use.
Price Range – Set a budget and explore options within that range. There are excellent pedals available for various budgets.
The Power of Reverb
Reverb pedals simulate the natural echo and reverberation you would hear in different environments. They are essential for creating spacious and ethereal guitar tones.
Strymon blueSky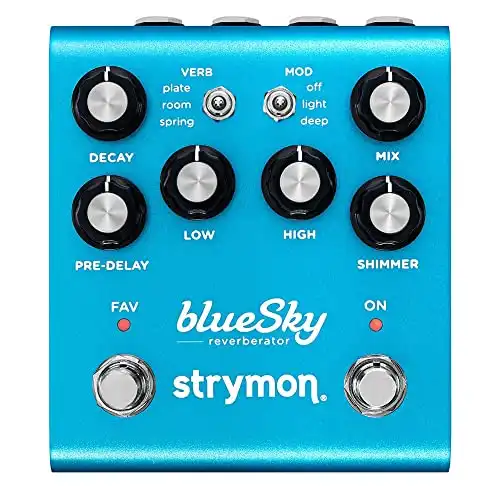 Reverb is the lifeblood of ambient guitar, and the Strymon blueSky is the holy grail.
This versatile pedal offers a wide range of sound textures divided into three modes: Normal, Modulated, and Shimmer.
It doesn't stop there; the blueSky boasts three reverb types – Spring, Plate, and Room.
You have total control with parameters for reverb decay, wet/dry mix, low damp, high damp, and pre-delay.
Two footswitches make it easy to switch presets and toggle the pedal on/off.
The blueSky delivers high-definition 24-bit/96kHz reverbs and offers stereo inputs and outputs.
It's hard to find a reverb pedal that matches the flexibility of the Strymon blueSky.
Mastering the Art of Volume Swells
Creating a volume swell is like using a bow on a violin – it adds a graceful, evolving quality to your sound. To achieve this, play a chord or note and gradually increase the volume or expression pedal, letting the sound bloom and envelop your audience in a sonic embrace.
Ernie Ball MVP Volume Pedal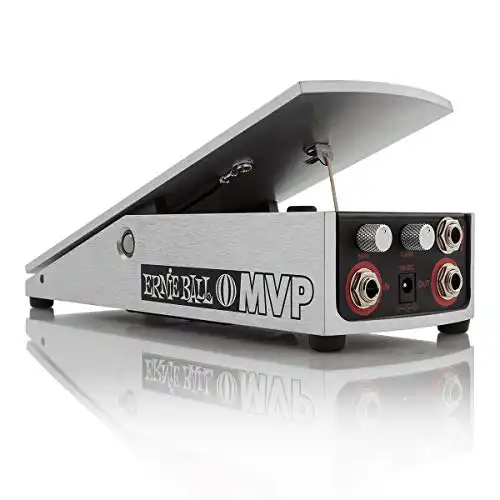 The Ernie Ball MVP Volume Pedal is your go-to choice for enchanting volume swells.
It's simple to use, with a single rocking foot pedal that controls volume. Rock it back for lower volume, forward for higher. Plus, there's a boosted +20db sweep at the toe position for that extra oomph.
A separate tuner pedal jack allows for quiet tuning moments. Don't be fooled by its simplicity; the Ernie Ball MVP can have a powerful impact when used effectively.
Embarking on the Delay Journey
Delay pedals introduce a delayed version of your guitar's signal, adding complexity and depth to your sound. They can create anything from subtle echoes to expansive, cascading repeats.
Strymon Timeline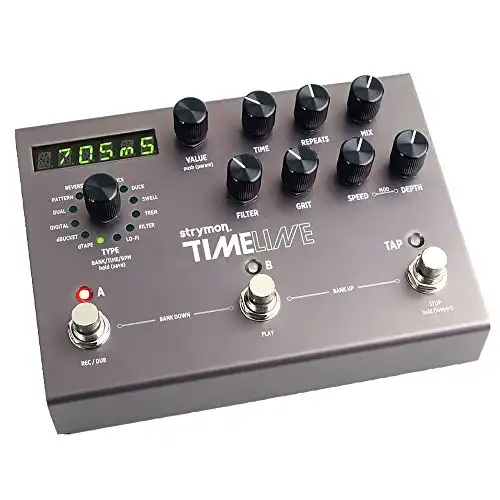 Selecting the best delay pedal for ambient guitar is a matter of personal taste, but the Strymon Timeline stands out as a top choice. With 12 different delay types and the ability to save 200 presets, it's a tweaker's dream. The 30-second looper opens up possibilities for layered soundscapes, and tap-tempo, MIDI, and expression pedal capabilities enhance its versatility. While it might not fit every budget, the Strymon Timeline is an investment that promises hours of experimental joy and exquisite delay sounds.
Multi-Effect Marvels
Multi-effect pedals are like a Swiss Army knife for guitarists. They combine various effects, including reverb, delay, modulation, and more, all in a single unit. These versatile pedals allow you to access a wide range of sounds, making them a go-to choice for those who want an all-in-one solution for their ambient adventures.
The Enigmatic Empress ZOIA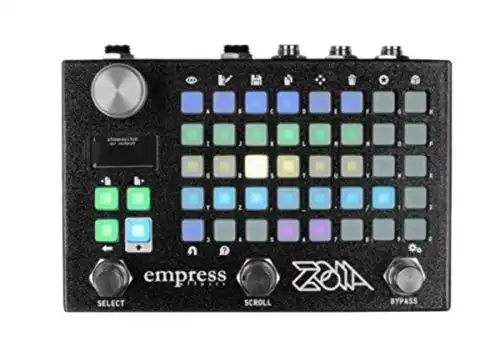 The Empress ZOIA is a revelation in multi-effects pedals. It's a playground for the experimental pedal tweaker, offering combinations of built-in effects like delays, reverbs, filters, modulation effects, and drives. It goes beyond the guitar world with step-sequencing and MIDI controls. While it may seem complex, its creative possibilities are limitless, making it an ambient guitarist's dream.
Dynamic Duo of Reverb and Delay Combined
Delay and reverb pedals, sometimes known as "ambience machines," combine the time-bending qualities of delay with the spatial depth of reverb, resulting in lush, atmospheric tones that transport your guitar sound into the cosmos. This combination is favored by many ambient guitarists for its ability to create expansive and dreamy soundscapes.
Source Audio Collider Stereo Delay and Reverb Pedal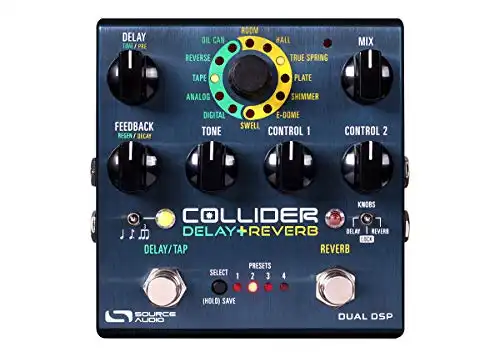 Source Audio Collider Stereo Delay and Reverb
Pros
Extensive range of delay and reverb effects, from classic to experimental.
Editing capabilities: the pedal allows you to fine-tune and create highly personalized soundscapes.
Cons
The complex features and customization options may be overwhelming for beginners.
High-end pedal, and its advanced capabilities come at a premium price.
Larger footprint on your pedalboard.
Check Price & Availability at Amazon
We earn a commission if you make a purchase, at no additional cost to you.
11/27/2023 09:51 pm GMT
The Source Audio Collider Stereo Delay and Reverb is a groundbreaking pedal reshaping the ambient sound creation landscape. This pedal seamlessly merges the captivating qualities of delay and reverb effects, granting musicians an extensive canvas of sonic textures to explore.
The Collider boasts a wide range of delay options, from vintage tape echoes to modern digital iterations. It can produce pristine, studio-quality delay effects, allowing you to craft everything from subtle rhythmic patterns to immersive, cascading soundscapes. It truly shines in its exceptional reverb section, offering an array of lush reverb algorithms that can transport your guitar tones to ethereal dimensions.
What sets this pedal apart is its deep customization options. With comprehensive control over parameters like pre-delay, decay time, modulation, and filters, you have the ability to sculpt your sound with precision. The Collider's dual-footswitch design and user-friendly interface make creating and saving your preferred presets a breeze.
The Source Audio Collider Stereo Delay and Reverb is a versatile and indispensable tool for guitarists looking to craft captivating soundscapes and embark on sonic journeys in ambient and experimental music. Whether you're a seasoned performer or an experimental enthusiast, the Collider empowers you to unlock a world of sonic possibilities.
Setting Up Your Ambient Guitar Pedal(s)

Setting up your ambient guitar pedal(s)is a bit like preparing a canvas for a painting – it's where you lay the foundation for your sonic masterpiece. Here's how you can get started:
Positioning Matters: First, decide where in your pedalboard chain the ambient pedal should go. Typically, it's placed after your distortion and overdrive pedals, allowing it to sculpt the affected signal for a more atmospheric effect.
Start with Basic Settings: Begin with the pedal's factory settings. This is your blank canvas. From here, you can experiment and dial in the sounds you want.
Experimentation is Key: Much like an alchemist mixing potions, don't be afraid to twist those knobs and push those buttons. Small adjustments can yield vastly different results. Try different reverb decay times, delay times, or modulation depths until you find the sound that resonates with you.
Layering Effects: For a truly mesmerizing experience, consider using multiple ambient pedals in your chain. Layering reverb, delay, and modulation can create lush, complex textures akin to painting with layers of colors on a canvas.
Tips for Creating Unique Ambient Guitar Sounds

Creating unique ambient guitar sounds is where the fun truly begins. Think of it as crafting a sonic sculpture that's uniquely yours. Here are some tips to guide you:
Experiment with Settings
Like a chef adding spices to a dish, don't hesitate to tweak those knobs. The tiniest adjustments can lead to sonic revelations. For instance, a subtle increase in reverb decay can make your guitar sound like it's echoing through a vast cathedral, while a touch of modulation can add a gentle, watery shimmer.
Layering Effects
Imagine your pedalboard as an artist's palette. Just as a painter layers colors to create depth, layering different effects can make your guitar tones richer and more engaging. Try combining reverb with delay for an otherworldly ambiance or add a touch of chorus for a celestial twist.
Use of Swells
Creating a swell is like using a bow on a violin – it adds a graceful, evolving quality to your sound. To achieve this, play a chord or note and gradually increase the volume or expression pedal, letting the sound bloom and envelop your audience in a sonic embrace.
Famous Musicians Who Use Ambient Guitar Pedals

Even outside the realm of ambient music many renowned musicians have embraced the ethereal world of ambient guitar pedals. Think of these pedals as the secret ingredients in their sonic recipes. Here are a few notable artists who've incorporated ambient magic into their music:
The Edge (U2)
The Edge is famous for his atmospheric guitar soundscapes, and he's known to use ambient effects extensively, creating an expansive sonic backdrop for U2's anthems.
Jonny Greenwood (Radiohead)
Radiohead's Jonny Greenwood is a master of textures and sound manipulation. His use of ambient effects adds an eerie and captivating dimension to the band's music.
Daniel Lanois
Daniel Lanois, a producer and musician, has worked with artists like Brian Eno and U2. His ambient guitar work is synonymous with the dreamy landscapes he creates.
David Gilmour (Pink Floyd)
David Gilmour's emotive guitar playing is further enhanced by ambient effects, contributing to the iconic sound of Pink Floyd. His solos often feel like sonic journeys through the cosmos.
FAQs
What is the difference between reverb and delay pedals?
Reverb adds a sense of space and reflection to your sound, replicating the effect of sound bouncing off surfaces. Delay, on the other hand, repeats your guitar signal with varying time intervals, creating echoes. Both add depth but in different ways.
Can I use an ambient guitar pedal with an acoustic guitar?
Absolutely! Ambient pedals can enhance the tone and atmosphere of acoustic guitars, making them sound even more enchanting.
Are there affordable ambient guitar pedal options for beginners?
Yes, there are budget-friendly options that offer great value for beginners. Look for pedals from well-known brands like Boss and Electro-Harmonix.
How do I power my ambient guitar pedal?
Most pedals can be powered using a standard 9-volt power supply. Be sure to check the pedal's power requirements, as some may need more voltage or have specific power supply recommendations.
Can I use multiple ambient guitar pedals together?
Absolutely! Many guitarists use multiple ambient pedals in their setup to create intricate and layered soundscapes. Just be mindful of the order in which you place them in your pedal chain for the best results.
Conclusion
Our exploration of the enchanting world of ambient guitar pedals has illuminated the infinite possibilities that await musicians who dare to venture into sonic realms beyond the ordinary. With the right pedal and a sprinkle of creativity, you have the power to craft captivating soundscapes that will enchant your audience.
Remember, the best ambient guitar pedal is not merely a piece of gear; it's a conduit for your artistic expression. It's the brush that strokes the canvas of sound, allowing you to paint musical landscapes that resonate with your unique style.
If you are brimming with questions or eager to share your experiences with ambient guitar pedals, we invite you to join the conversation in the comments section below. Whether you're strumming for an audience or exploring solitude, keep the ambient vibes flowing and the creative flames burning.
So, as you embark on your musical adventure, may you continue to strum, dream, and explore, allowing your guitar to guide you through the boundless universe of ambient sound.
Now, go forth, create, and let the world hear the ethereal beauty that only you can craft with your six-string companion.
Related Posts 
What Pedals Should Every Guitarist Have?