So, you just picked out a guitar, and now you want to make some noise! You're going to need an amp. Even acoustic guitarists find themselves needing some extra volume to play live or jam with friends.
The problem is that there are hundreds of different amps out there, each with its own unique set of features and specifications. It's overwhelming enough for seasoned guitarists. For beginners, it's almost impossible to navigate the ocean of choices.
We've compiled a list of five amps we think are the best guitar amps for beginners.
Boss Katana 50 MkII – Best overall guitar amp for beginners
Blackstar ID: Core 10 V3 – Best value amp for beginners
Fender Mustang Micro – Best headphone amp for beginners
Vox AC10C1 – Best tube amp for beginners
Vox Pathfinder 10 – Best budget guitar amp for beginners
What to Look for in a Guitar Amp for Beginners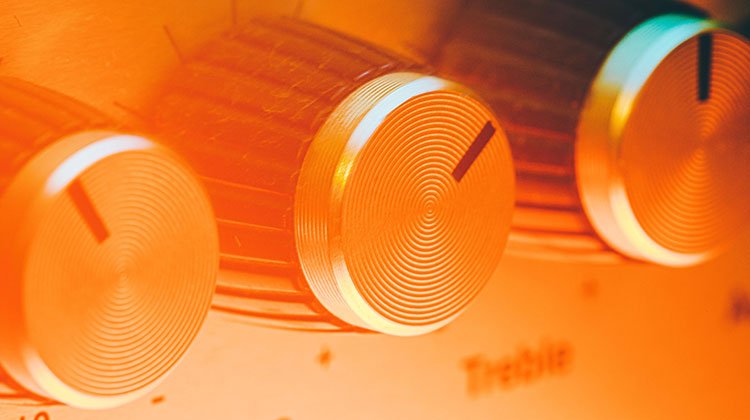 Let's highlight what you should be looking for as a beginner. The perfect amp will be something that fits your unique needs and grows with you as you learn.
Price
Price is the first thing most beginners will think about. Guitar gear can be expensive, and it's easy to fall into the trap of thinking that "expensive means better." However, the value of an amp comes from how well it suits your particular needs. We can find that amp in almost any budget.
Versatility
As a beginner guitarist, your journey is just beginning and where it will take you is unknown. A couple of years from now, will you be rocking out in local clubs or a sweaty basement? Will you be picking up gigs as a recording session musician, or maybe be working out of a home studio? Or perhaps you'll be happy just noodling around at home with the occasional friendly jam session.
For your first amp, you want something that leaves as many doors open as possible. As we mentioned earlier, gear is expensive! Some amps excel in specific situations. You don't want to spend hundreds (or thousands) of dollars on those until you've found your niche.
Volume
Amps come in tons of different shapes, sizes, and configurations. There are giant full-stack rigs capable of playing to an arena and tiny little boxes that can fit in your pocket. Generally, more watts means more power.
As a beginner, you'll be practicing a lot. Your neighbors probably don't want to hear you working out the riff to "Seven Nation Army" all night, so it's best to look for something capable of being quiet.
But keep in mind, we're looking for versatility. Not long after you start playing, you might want to start jamming with some friends. An amp that can't cut through some moderately loud drums can put a damper on your first jam session.
Our ideal amp will have options for loud and quiet situations. 
Effects
Most amps have one, maybe two onboard effects. Manufacturers of pro amps assume that the people playing them will already have a board full of their own effects pedals.
But, as we've discussed, gear is expensive! Experimenting with different effects is one of the most fun parts of learning guitar, but it can take a long time to save enough money to fill out a pedalboard (or even buy the board itself).
An amp with many onboard effects will be more fun to play out of the box and help you define your unique sound before spending a bunch of money on pedals.
Connectivity
Like guitar gear, recording gear is also expensive. Traditionally, you'd have to spend hundreds of dollars to record on anything besides your phone's voice memos or an old tape recorder. Many modern amps offer options that can get you started recording without breaking the bank.
Look out for amps that can connect to computers via USB to avoid worrying about expensive microphones, mixers, or audio interfaces. 
Using free audio workstations like GarageBand or Audacity, you can get up and running by recording some demos without spending any extra money.
Boss Katana 50 MkII – Best overall guitar amp for beginners
BOSS KTN-50-2 Katana-50 MkII-50-watt 1x12 Guitar Combo Amp (KTN-50-MK2)
Pros:
Versatile power control lets you adapt to any volume situation

5 unique amp characters to explore

Onboard effects chain from one of the leading effect pedal manufacturers

Easily plugs into computers to fine-tune your sound and record
Cons:
With so much versatility, the amp's controls can seem overwhelming, especially for beginners

Slightly expensive for a beginner amp
Check Price & Availability at Amazon
We earn a commission if you make a purchase, at no additional cost to you.
09/27/2023 03:16 am GMT
The Boss Katana lineup offers more versatility than any other on the market. The Boss Katana 50 MkII has enough power to keep up with a loud drummer and to start playing live gigs. The amp's power control lets you switch between 50 W, 25 W, or 0.25 W to accommodate just about any volume situation.
5 amps in 1
The Katana offers 5 distinct amp characters that replicate warm vintage amps, modern high-gain amps, and everything in between. Each amp character provides 2 variations for a total of 10 unique tones. The Katana also includes an acoustic amp setting so you can plug your electric acoustic straight in and get full-bodied tones without the ear-splitting feedback.
Unrivaled onboard effects
The Katana's onboard effects can rival other amps and many professional pedalboards. Boss manufactures some of the most iconic effects pedals to have ever hit the market, and 15 of them are built into this amp.
The Katana allows you to chain together up to 5 effects simultaneously, mimicking the signal chain of a physical pedalboard. You can save up to 4 presets to recall your favorite combinations quickly.
Infinite opportunities via USB
The Katana easily connects to your computer via USB, opening up worlds of possibilities. The included Tone Studio software provides infinitely deeper customization options to sculpt the perfect tone or to upload presets from the community of other Katana users. The USB output emulates a speaker cabinet recorded with a microphone for easy, natural-sounding recording.
The Boss Katana 50 mkII provides unrivaled versatility for a price almost any beginner can afford. The onboard effects and computer connectivity provide enough creative freedom to spend years exploring and experimenting. Whether you're practicing, gigging, or recording, the Boss Katana 50 mkII is a great amp that provides infinite value for beginners and pros alike.
Blackstar ID: Core 10 V3 – Best value amp for beginners
If you're looking to get the most bang for your buck, look no further than the Blackstar IDCore 10 V3. It is a powerful little amp that's full of surprises!
6 amp voices
The IDCore 10 V3 comes with 6 different amp voices to provide a wide range of vintage and modern tones.
Onboard effects
The IDCore 10 V3 includes plenty of built-in effects for experimenting and fine-tuning your sound. These include:
4 reverbs (room, hall, spring, and plate)
4 delays (linear, analogue, tape, and multi)
4 modulations (phaser, chorus/flanger, envelope, and tremolo)
The amp also features a built-in tuner, convenient for beginners who don't have a tuner pedal.
Incredible stereo separation
Iconic amps like the Fender Twin Reverb are famous for the lush sonic tapestries they weave. When an amp has two speakers that can vibrate independently, effects like reverb, delay, and modulation create stereo sounds wide enough to fill any room.
The IDCore 10 V3 has two 3″ speakers, each independently pushed by 5W of power. Combined with the onboard effects, this amp punches way above its weight class. You'll quickly get lost in your playing for hours as the sounds swirl around the room.
Easy and flexible connectivity
Plug straight into your computer and begin recording. Blackstar's included Cab Rig Lite software allows you to fine-tune controls, set up virtual pedal chains, and emulate a speaker cabinet.
The IDCore 10 V3 also comes with a 3.5mm output for recording directly to a mobile device. This feature is also great for livestreaming your practice session or performance.
The Blackstar IDCore 10 V3 offers a ton of features while being one of the most affordable amps on the market. This amp has a ton to offer guitarists of all levels and is a perfect companion for beginners.
Fender Mustang Micro – Best headphone amp for beginners
If you live in tight quarters with roommates or work odd hours, you may not have very many opportunities to play even the quietest amps. If you know that most of your playing will be through headphones, it makes sense to get something that specializes in that. The Fender Mustang Micro is the best headphone amp out there.
Portable all-in-one package
The Mustang Micro is small enough to fit into your pocket and plugs directly into your guitar. No cable is necessary. All of your controls and effects are right there at your fingertips while you're playing.
Unlike with similar products, there's no need to worry about batteries. The Mustang Micro is rechargeable via USB-C. It's by far the best travel companion for any guitarist!
Easy access to a variety of tones
The Mustang Micro features 12 amp models, 12 effect combinations, and an adjustable EQ. Tweak the parameters of each sound until you find the best sound for you.
Bluetooth capabilities
One of the best ways to practice is to play along with your favorite songs. The Mustang Micro connects to your devices via Bluetooth, allowing you to blend prerecorded music into your headphone mix. The ability to jam out along with your favorite songs anywhere, anytime, makes this one of the best practice tools out there.
The Fender Mustang Micro is the perfect companion for anyone who mostly plays through headphones or travels frequently.
Vox AC10C1 – Best tube amp for beginners
You may have heard other guitarists say that vintage-style tube amps are the only way to go. While more modern solid-state amps have improved exponentially over the years and are infinitely more flexible, some audiophiles and tone connoisseurs are only happy with classic tube amps. If you want that classic tube-driven tone and have money to burn, the Vox AC10C1 is the amp for you.
Classic Vox tone
Vox is a staple of classic British amp manufacturers. Their AC10 amp is a heavily sought-after collector's item for those looking to replicate the guitar tones of The Beatles, The Yardbirds, U2, Radiohead, and countless others throughout the years. The AC10C1 produces the sound of the British invasion in a small package that's easy to carry and relatively affordable.
The Vox AC10C1 provides beautiful tube-driven tones straight out of the British Invasion. It's a high-quality professional amp ready for any stage or in any studio.
Vox Pathfinder 10 – Best budget guitar amp for beginners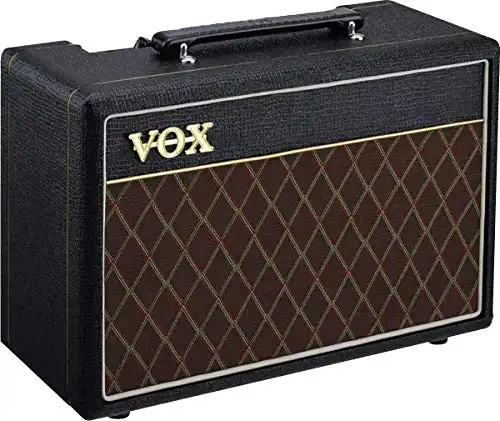 Vox Pathfinder Combo, 10W (V9106)
Pros:
Classic Vox tone in a budget-friendly package

Clean/Overdrive switch offers some versatility without pedals

Headphone output for quiet practice
Cons:
Limited controls, no onboard effects

Too quiet for live band situations
Check Price & Availability at Amazon
We earn a commission if you make a purchase, at no additional cost to you.
09/27/2023 03:30 am GMT
The Vox Pathfinder 10 is the perfect amp for guitarists on a tight budget. The Pathfinder's solid-state design does an incredible job of emulating the rich sounds of tube-driven Vox amps at a price almost any beginner can afford.
There's an overwhelming number of amps on the market in just about every variation you can think of. The best amps for beginners have versatile volume capabilities, plenty of onboard effects, and can easily connect to computers. With these traits in mind, there are amps available that fit almost any budget. But the most crucial aspect an amp can have for you as a new guitarist is that you enjoy playing it!